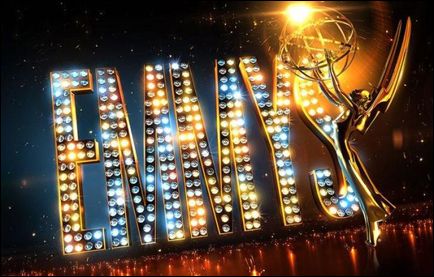 Arriva oramai tutto in differita su queste afose ed indaffarate pagine, tuttavia proprio non si può glissare sulle attese candidature alla sessantaseiesima edizione degli
Emmy Awards
, annunciate il 10 luglio.
A dominare incontrastata, con ben diciannove nominations è
Game of Thrones
, che proprio in questo 2014 ci ha regalato probabilmente la sua più riuscita stagione, seguita a ruota da quel gioiellino di
Fargo
(diciotto nominations) – che ha già incassato tre
Critics' Choice Television Awards 2014
– e, inaspettatamente, da
American Horror Story: Coven
(diciassette nominations), che, contrariamente alle precedenti serie, si è rivelato piuttosto deludente nella sua terza tornata di episodi. Con sedici candidature seguono il film per la TV targato HBO,
The Normal Heart
– anch'esso vincitore di due
Critics' Choice Television Awards 2014
– e, udite udite, la nostra adorata e ormai conclusa
Breaking Bad
, che meriterebbe, più o meno, tutti i premi di questo mondo. Dodici, infine, le possibilità date a
Orange is the New Black
ed a quel gioiellino di
True Detective
, in gara con se stesso nella categoria miglior attore protagonista in una serie drammatica (anche se Bryan Cranston…). Molta meno carne al fuoco –
litterally
– rispetto alle scorse annate per
Homeland
, troppa roba per gli ormai stagnanti
House of Cards
e
Downton Abbey
.
I vincitori saranno annunciati durante la serata di premiazione che si terrà il 25 agosto al Nokia Theatre di Los Angeles. Come sempre, l'elenco delle candidature delle principali categorie segue il salto, mentre quello completo è sul
sito ufficiale
.
Miglior Serie Drammatica
Breaking Bad (AMC)
Downton Abbey (ITV)
Game of Thrones (HBO)
House of Cards (Netflix)
Mad Men (AMC)
True Detective (HBO)
Miglior Attrice Protagonista in una Serie Drammatica
Michelle Dockery, Downton Abbey
Julianna Margulies, The Good Wife
Claire Danes, Homeland
Robin Wright, House Of Cards
Lizzy Caplan, Masters of Sex
Kerry Washington, Scandal
Miglior Attore Protagonista in una Serie Drammatica
Bryan Cranston, Breaking Bad
Kevin Spacey, House Of Cards
Jon Hamm, Mad Men
Jeff Daniels, The Newsroom
Woody Harrelson, True Detective
Matthew McConaughey, True Detective
Miglior Attrice Non Protagonista in una Serie Drammatica
Anna Gunn, Breaking Bad
Maggie Smith, Downton Abbey
Joanne Froggatt, Downton Abbey
Lena Headey, Game Of Thrones
Christine Baranski, The Good Wife
Christina Hendricks, Mad Men
Miglior Attore Non Protagonista in una Serie Drammatica
Aaron Paul, Breaking Bad
Jim Carter, Downton Abbey
Peter Dinklage, Game of Thrones
Josh Charles, The Good Wife
Mandy Patinkin, Homeland
Jon Voight, Ray Donovan
Miglior Serie Commedia
The Big Bang Theory (CBS)
Louie (FX)
Modern Family (ABC)
Orange Is The New Black (Netflix)
Silicon Valley (HBO)
Veep (HBO)
Miglior Attrice Protagonista in una Serie Commedia
Lena Dunham, Girls
Melissa McCarthy, Mike & Molly
Edie Falco, Nurse Jackie
Taylor Schilling, Orange Is The New Black
Amy Poehler, Parks and Recreation
Julia Louis-Dreyfus, Veep
Miglior Attore Protagonista in una Serie Commedia
Jim Parsons, The Big Bang Theory
Ricky Gervais, Derek
Matt LeBlanc, Episodes
Don Cheadle, House Of Lies
Louis C. K., Louie
William H. Macy, Shameless
Miglior Attrice Non Protagonista in una Serie Commedia
Mayim Bialik, The Big Bang Theory
Julie Bowen, Modern Family
Allison Janney, Mom
Kate Mulgrew, Orange Is The New Black
Kate McKinnon, Saturday Night Live
Anna Chlumsky, Veep


Miglior Attore Non Protagonista in una Serie Commedia
Andre Braugher, Brooklyn Nine-Nine
Adam Driver, Girls
Jesse Tyler Ferguson, Modern Family
Ty Burrell, Modern Family
Fred Armisen, Portlandia
Tony Hale, Veep


Miglior Miniserie
American Horror Story: Coven (FX)
Bonnie & Clyde (A&E)
Fargo (FX)
Luther (BBC)
Treme (HBO)
The White Queen (Starz)
Miglior Film TV
Killing Kennedy (National Greographic)

Muhammad Ali's Greatest Fight (HBO)

The Normal Heart (HBO)

Sherlock: His Last Vow (PBS)
The Trip To Bountiful (LIfetime)
Miglior Attrice Protagonista in una Miniserie o in un Film TV
Jessica Lange, American Horror Story: Coven
Sarah Paulson, American Horror Story: Coven
Helena Bonham Carter, Burton And Taylor
Minnie Driver, Return To Zero
Kristen Wiig, The Spoils Of Babylon
Cicely Tyson, The Trip To Bountiful


Miglior Attore Protagonista in una Miniserie o in un Film TV
Chiwetel Ejiofor, Dancing On The Edge
Martin Freeman, Fargo
Billy Bob Thornton, Fargo
Idris Elba, Luther
Mark Ruffalo, The Normal Heart
Benedict Cumberbatch, Sherlock: His Last Vow